Plan the perfect team building Ontario retreat. With a wealth of outdoor activities to choose from, the quality time your team spends at Blue Mountain will set your group up for success and fresh thinking back in the office. From corporate events to leadership trainings, our inspiring team building activities will help you make business a pleasure. Scroll down to learn more.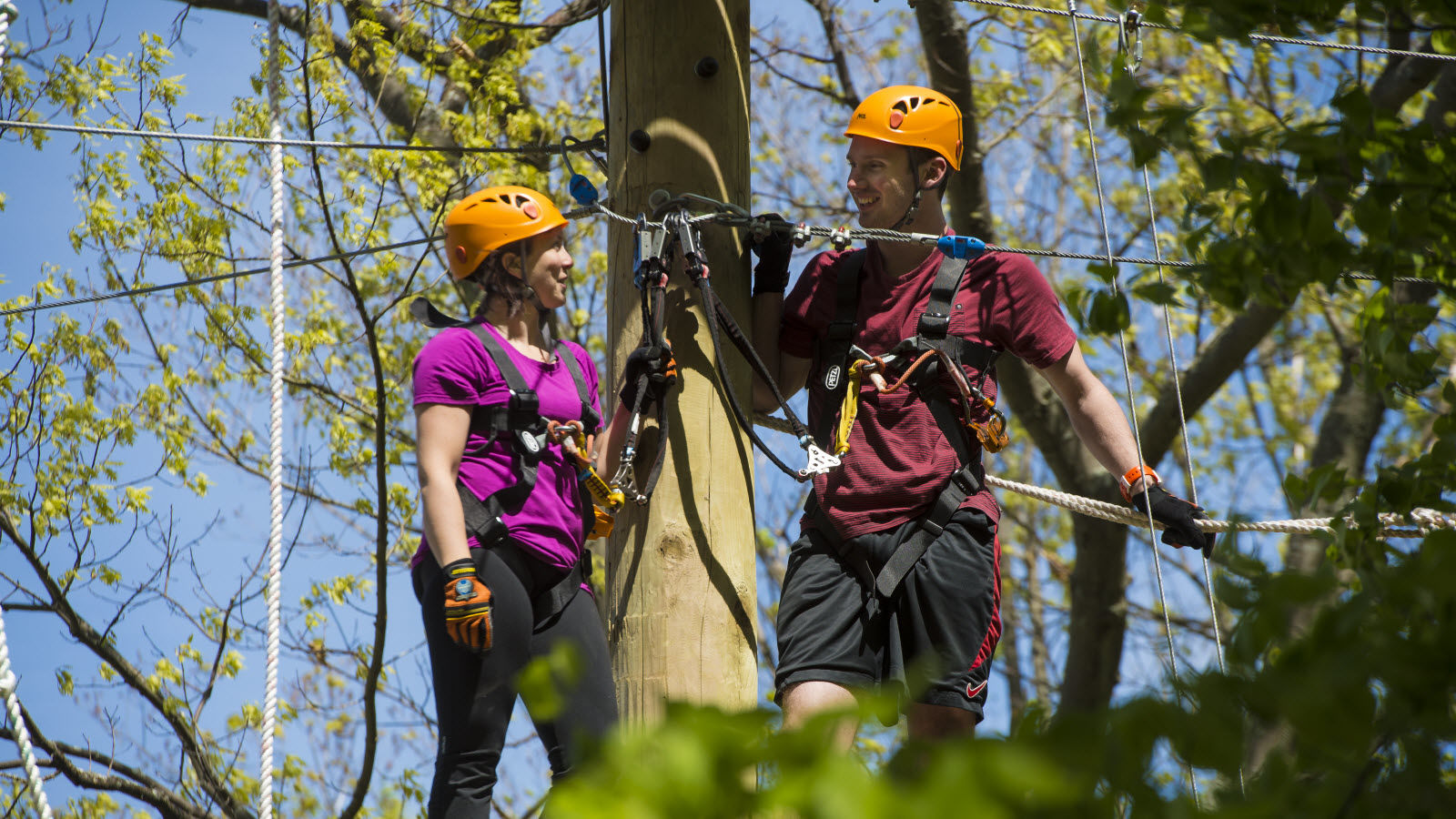 DID YOU KNOW?
In 2015, we were named one of the Top 10 Corporate and Staff Retreats near Toronto byblogTO.com.
CONTACT US
To begin planning your team building Ontario retreat and to receive information on activity options, please contact our sales team at 705-443-8080 or email info@westinbluemountain.com.
TEAM BUILDING ACTIVITIES
The Westin Trillium House, Blue Mountain offers some of the most unique activities for your team building Ontario retreat, including:
Timber Challenge High Ropes: Explore new heights on an elevated ropes challenge course consisting of seven courses, suited to three progressive difficulty levels. Push your limits! Each course presents a unique challenge, spanning between trees at various heights off the ground.
Woodlot Low Ropes: All ages and ability levels will enjoy tackling each element using a variety of suspended logs, beams, ropes, cables and cargo nets.
The Wind Rider Triple Zips: Soar through the sky as you virtually fly between platforms reaching heights of up to 50ft at speeds of up to 50km/hr - with three parallel lines that allow you and your team to fly between platforms simultaneously.
Canoeing: Work together to manuever your canoe to the finish line as you compete against opposing canoes.
Ridge Runner Mountain Coaster: Create lasting memories as you zigzag alone or with a partner at speeds of up to 42 km/hour downhill through the beautiful Niagara Escarpment.
Mountaintop Segway Tours: Take your team off the beaten path with this 2-wheeled attraction. Our guided tour takes you on an off-road trek that's fun for all.
Cascade Putting Course: This challenging, but fun 18 hole, par 67 putting course brings a little friendly competition and is sure to provide lasting memories.
TEAM BUILDING ONTARIO HOTEL
After a day of challenging and fun activities, relax in the comfort of a guest room featuring breathtaking views. Wake restored in our signature Heavenly Bed®, offering 10 layers of comfort. Soak in utter relaxation with our Heavenly Bath®, featuring a revitalizing shower that transforms your bathing routine into a spa-like experience. Our hotel offers a variety of room types to meet your team's needs. To help keep you well-nourished, our hotel restaurant, Oliver & Bonacini Café Grill will ensure your team has an irresistably healthy meal before, during and after your activities. Learn more about our Blue Mountain accommodations or view our hotel video.